Battle of Renoro
Date:
October 5th, 2018 - October 8th, 2018
Conflict:
Netherland War
Combatants:
Status:
Decisive G.F.R Victory...
Outcome:

Renoro occupied by Netherland Forces...
Netherland forces stalled..
German forces liberate Renoro...

Region:

Munster

, German Federal Republic
Created By:
2091riveraisrael
The Battle of Renoro was a major engagement that took place in the early days of the Netherland War, during the Netherland Republic's Invasion of Germany in October of 2018, that was known to have been fought between the last of the German Homefront Defenders and Invading Netherlandic Forces whom at the time of this engagement had completely conquered nearly 87 percent of the Munster Province in Western Germany, which was meant to prevent the German Crossroads from falling under the control of the Netherlands.
The engagement served as a turning point in the war, and was also known as the major engagement that finally stopped the Netherland Republic's Invasion from breaking out of the Munster Province and entering the German Heartland.
In the aftermath of the engagement, the German Military was able to finally amass its forces within the heartland in Germany and finally relieve the exhausted German Homefront Defenders who were holding the Crossroads in the last 24 hours, where the Germans were successful in launching a counter offensive that would drive the Netherlands out of Munster Germany and back across the Rhine, where the Netherland Republic by October 24th, 2018, would then suffer a retaliatory Invasion in response to the destruction across the Munster Province.
This engagement would be the farthest that the Netherland Republic would be able to expand within the nation of Germany, as after they were defeated here, they would lose all their territory within the next couple of weeks from the German counter attack.
Prior to the Events

[

]
Engagement

[

]
Netherland Invasion October 5th to October 6th

[

]
Fight for Renoro

[

]
Netherland Occupation of Renoro

[

]
Battle for the Crossroads

[

]
Final Stand at Rhinehana Airfield

[

]
Netherland attempts at Rhinehana

[

]
Battle for the Road

[

]
Arrival of the 82nd Amsterdam Battalion

[

]
Siege of the Crossroads October 6th to October 8th

[

]
Holding the Airfield

[

]
German Counterattack

[

]
Reclamation of Renoro

[

]
Battle of Ankra Field

[

]
Arrival of the German Main force

[

]
Netherland Retreat

[

]
Aftermath

[

]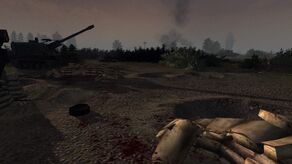 Trivia

[

]